Want to lead a Connect Group?

We'll be launching our Fall Session of Connect Groups in September and we're looking for new Connect Group Leaders. Whether you're interested in leading a study, starting a recreation group to get to know people through an activity, have a particular passion for a ministry of support, or want to go long term and build a life group - we need you! Let us know what you're thinking about and we'll contact you to discuss what it looks like and how to move forward.


Community Fellowship Meal

Join our COF Community for Lunch! Jon and Bri Gardner will be leading a carry-in meal at the youth building every 3 months on the 1st Sunday from 11:30-2:30. Bring something to share and stop in for lunch on
March 1, 2020
June 7, 2020
September 6, 2020
and December 6, 2020.


Homeschool Connect Group
Starting in April Teressa Superka and Kaylee Lebo are hosting a Homeschool group on the last Friday of the month from 12:30-2:30pm. This group is for moms and students of all ages who homeschool, as well as toddlers and preschoolers who stay at home with their moms. Even though this is primarily a social group, the activities we do will be educational in nature. We will alternate meetings between the COF Youth Building and field trips. In the Youth building parents will participate and help kids in playing games, crafts, and other projects and activities. Field trip days will likely start earlier than 12:30p and last longer than 2 hours, but should be finished by 2:30p. The first meeting will be at the COF Youth Building on Friday, April 24th, 12:30p-2:30pm.
Lewisburg: Mom's Bible Study
Have a New Kid by Friday!
Brenda Tudor will be leading this study by Dr. Kevin Leman. Dr. Leman lays out an action plan that enables change to your child's behavior - fast! We meet together to encourage mothers of all ages to embrace the journey of motherhood. Join us every other Monday from January 27 - April 7, 6:30 to 8:00pm at the Youth Building. Feel free to contact Brenda at (937) 545-9884 for more information, or sign up.
No childcare provided.
Coming in March! Arcanum: Women's Bible Study

Carla Wade will be hosting a Women's bible study beginning in March. The group is open to women of all ages and meets on Tuesday evenings, 6:30pm, beginning in March. Please contact Carla at (937) 417-5984 for more information, or sign up.


Christian Concert Group

Do you enjoy Christian Concerts? Amy Robinson will be coordinating trips to a few local Christian Concerts a year.
Please sign up if you are interested in joining them!


LEWISBURG: MEN'S BIBLE STUDY
Dave Summers is leading a Men's Bible Study at the Gray House in Lewisburg every Saturday morning at 8:00am. The men are currently studying the book of Romans, making friends, sharing our hurts and victories, working on accountability and enjoying breakfast! Please sign up to join!


Lewisburg: Game Night

George and Jessi Holt are hosting a game night February 29th from 6:30-9:30 pm at the Youth Building. Bring your friends or family, a snack to share and join them. Contact the Holts at (937) 336-1292, or sign up. Also mark your calendars for the upcoming 3rd Saturdays of the month.
March 21st
April 18th
May 16th


West Alexandria - Supper and Sermons!
Come join Rick and Jan Petersen as they host a group who enjoys fellowship over food, and conversation about this week's sermon around the dinner table. Bring a dish to share, and join us 1st and 3rd Tuesday evenings at 6:30.
Eaton - Supper and Sermons!
Come join Steve and Beth Wertz as they host a group who enjoys fellowship over food, and conversation about this week's sermon. Steve Moore leads our discussion as we strive to apply our Sunday Sermons to everyday life! Bring a dish to share, and join us the 2nd Tuesday of each month at 7:00 pm.
EATON: WOMEN'S BIBLE STUDY
This group is led by Jan Petersen and will be meeting on the 2nd and 4th Tuesday at 10 am at the Eaton Library, 301 N. Baron St. During this time, the ladies will be digging into the book of Isaiah and seeking applications for real life situations. Just bring your Bible and a pen!
Richmond Mom's Group - Better Together:
Because we're not meant to Mom alone!
Who knew mothering would be so hard? Are you trying to do this mom thing alone? Do you feel isolated at times? So focused on the kids that you're wearing yourself out? Mom guilt? Comparison game? Feel like no one "gets" mom challenges?
Join Katie Carfield and this group of mamas as we dive into a video study, "Better Together" by Jill Savage.
Leave perfection at the door, curl up next to a friend with your cup of coffee, and enjoy some time for you.
1st and 3rd Wednesdays at 10am.
Can't get a babysitter? Bring the kids with you.
West Alexandria: Women's Study group
How to Study the Bible - 1 Peter

Jamie Sarver will be leading an in-depth study of 1 Peter by Jen Wilkin. This 9 week bible study teaches you how to study the Bible as you study 1 Peter. It gives you tools that will help you go deep in any passage you study. Please join on Monday afternoons from 12:30 - 2:30 pm at her home in West Alexandria. Sign up for complete details.
January 27, February 10 and 24, March 9 and 23, April 6 and 20, May 4 and 18
EATON: EUCHRE NIGHT
Mike and Katrina Tyler are excited to open their home and get to know you. They will be meeting the first Friday of each month to play cards and fellowship from 7-9p. They will also be mixing in their heart for service as well. They desire to use this time to build relationships and be able to help other families when needs arise.
ARCANUM BIBLE STUDY
Don and Deb Taylor have teamed up with Larry and Carla Wade to open their homes to meet, every 1st and 3rd Thursday of the month at 7pm. This group will gather to pray together, share-life and build new relationships. This group is currently studying the book of The Revelation and would like to encourage you to come join them as they explore this incredible book of prophecy.
New Paris Study Group - Marriage : His Needs, Her Needs
Ashley and Lee Markley are leading a group in New Paris on Marriage entitled "His Needs, Her Needs". This study helps couples identify each other's most common needs, and encourages them to invest in developing their marriage by committing to fulfill one another's needs daily. The group will be meeting once per month at 4pm at the Markley's home.
HELPING HANDS
Mike Black is hosting a group with a focus on blessing those in need in the church and the community with projects. This will include everything from automotive to construction and basic labor. They will meet once a month at various locations for fellowship and to discuss possible opportunities to help others.
MOTORCYCLE GROUP
Kevin Dearing is hosting a group for motorcycle/classic car owners in the church to get to know one another and fellowship together. He also desires to use the opportunity to provide fundraising opportunities for various organizations in our community and church.
LEWISBURG: WOMEN'S STUDY GROUP - How to Study the Bible / 1 Peter
Penny Petersen will be leading an in-depth study of 1 Peter by Jen Wilkin. This Bible study teaches you how to study the Bible as you study 1 Peter. It gives you tools that will help you go deep in any passage you study. If you want to grow in relationship with God then you must grow in your knowledge of the Bible. Please join us every other Saturday morning from 9 -10:30 am at the Youth Building in Lewisburg, beginning January 25th. Childcare will be provided (please indicate your need for childcare by putting CC by your name when you register. For example: Jane Doe CC).
ARCANUM - WOMEN'S SOCIAL
Donna Fox, Heidi Wolf and Torrie Norris invite you to join them on the third Friday of each month at 7pm for a time of food and fellowship. They'll meet at Heidi Wolf and Donna Fox's homes.
No childcare provided.
EATON LADIES SOCIAL
It's a gathering with food and fellowship!
Lacey Artz and Dawn Wilson will be happy to have you join them every 1st and 3rd Friday from 6-8p. Our focus is on creating a safe space where we can relax, talk, enjoy one another, and learn what it is to build meaningful relationships. We also do a devotion each together via the Bible App. Come and meet us!
No Child Care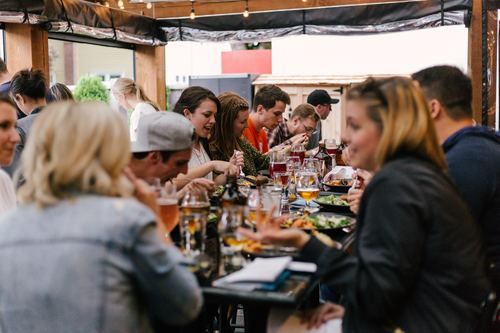 LADIES LUNCHES
These ladies gather once a month at various restaurants in the area for food and fellowship. They meet at 11am on the third Wednesday of each month.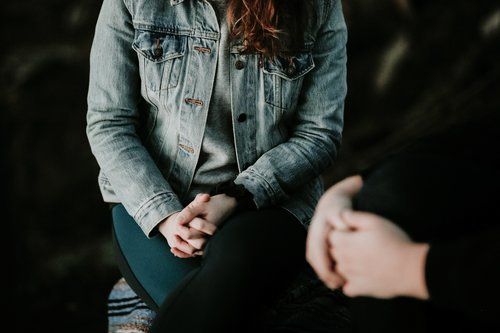 Women's GriefShare Connect Group

Joy Lee, Monique Lipps and Cami Snyder will be hosting a women's grief support group using the curriculum GriefShare. It will meet the 1st and 3rd Tuesday from 6:30-8:00 PM at the gray house in Lewisburg. It will begin March 17th and will meet for 13 weeks. You will need to purchase a book for this group.


LEWISBURG: LIFE RECOVERY
This support group is led by Walter and Lisa Landerer, and is for anyone dealing with addiction. Our group provides the opportunity to join with others and walk through your recovery together. We welcome those who are walking through the battle with their loved ones, as you don't need to walk this struggle alone. This group meets every Monday from 7-8 pm at the Lewisburg Campus.
EATON: FAMILIES FOR RECOVERY
Jon and Kristin Pettit invite you to join their support group for families in recovery every Tuesday evening from 7:30-8:30 at the Eaton Church of the Nazarene. This is a support meeting not only for those struggling with addiction, but for the family members, spouses, and others who are walking with them in their recovery. For more information, please contact Kristin at (937) 733-9298.